Easy tutorial for beginners with some explanations, the tab, the lyrics and the chords to play the latin song La Gota Fria chords from Carlos Vives on guitar.
La Gota Fria with chords
The three parts of the Carlos Vives song are played in the same way
We will therefore only see the part 1 composed of two verses and a chorus.
Chords of the Carlos Vives song
Here are the four chords you will need to know for the whole song :

When these positions are known and mastered you can look at the following tabs to play the music with your guitar.
La Gota Fria is composed of three parts and we will only see part 1 in this order : verse 1 – verse 2 – chorus.
Verse 1 | La Gota Fria with chords
To play the first verse of this Carlos Vives song, you will have to remember the previous chords and read the following tab :
Remember that the chords are written above the lyrics so that you can play them at the right time. Therefore, it's better to play while singing. Chords that are to the right of a phrase (not above a word) are played between the two phrases.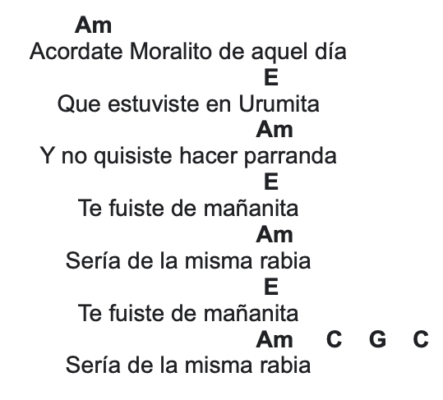 Once you have learned and mastered verse 1, you can move on to verse 2.
Verse 2 | Carlos Vives song
This second verse differs a little from verse 1 although the rhythm remains unchanged and the chords are still placed at the same time :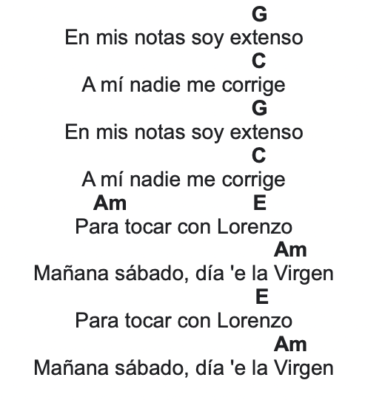 After working and playing the tab of verse 2, you can finish and play the refrain of La Gota Fria.
Try other styles and play the Pop-Rock music Wonderful Life chords by Katie Melua.
Chorus | Music with guitar tab
The chorus does not differ from the first verses and it will be quite easy for you to play it. The chords are the same and the rhythm doesn't change, so you can continue with this tab by making the guitar sound like you do from the beginning.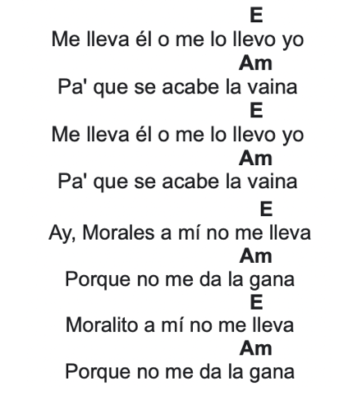 So part 1 is finished. To play the last two parts of the song of Carlos Vives, you will just have to read and learn the lyrics. Be careful with part 3 which does not contain a chorus.
Find other easy song for beginners to play with your guitar on Decibel Score.
La Gota Fria lyrics
The song La Gota Fria is composed of three parts.
The structure of the lyrics is :
Part 1 (verse 1 – verse 2 – chorus)
Part 2 (verse 3 – verse 4 – chorus)
Part 3 (verse 5 – verse 6)
Part 1
Verse 1
Acordate Moralito de aquel día
Que estuviste en Urumita
Y no quisiste hacer parranda
Te fuiste de mañanita
Sería de la misma rabia (x2)
Verse 2
En mis notas soy extenso
A mí nadie me corrige (x2)
Para tocar con Lorenzo
Mañana sábado, día 'e la Virgen (x2)
Chorus
Me lleva él o me lo llevo yo
Pa' que se acabe la vaina (x2)
Ay, Morales a mí no me lleva
Porque no me da la gana (x2)
Partie 2
Verse 3
Qué cultura, que cultura va a tener
Un indio chumeca
Como Lorenzo Morales
Qué cultura va a tener
Si nació en los cardonales (x2)
Verse 4
Morales mienta mi mamá
Solamente pa' ofender (x2)
Para que él también se ofenda
Ahora le miento la de él (x2)
Chorus
Partie 3
Verse 5
Moralito, Moralito se creía
Que él a mí, que él a mí
Me iba a ganar
Y cuando me oyó tocar
Le cayó la gota fría (x2)
Verse 6
Al cabo él la compartía
El tiro le salió mal (x2)
Play other latin music chords with your guitare !
Easy PDF score to play La Gota Fria
The following score is a "home-made" easy PDF score for beginners that we created according to the above frameworks and explanations.
This score summarizes everything we just covered. You can download it for free to play La Gota Fria chords by Carlos Vives on guitar.