PDF score of Wonderful Life on guitar
Wonderful Life with chords
Chords | Wonderful Life on guitar
To play the song Wonderful Life chords, you need to learn and know the four next chords :

When these positions are mastered on guitar, you can continue with the following tabs to play this music.
If you're just starting out and are having trouble with bar chords on guitar, try our online guitar lessons.
Part 1 of Wonderful Life by Katie Melua
Wonderful Life by Katie Melua starts with part 1. Using the chords you just learned with your guitar, follow the tab below to play the two verse of first part :
Remember that the chords are written above the lyrics so that you can play them at the right time. Therefore, it's better to play while singing. Chords that are to the right of a phrase (not above a word) are played between the two phrases.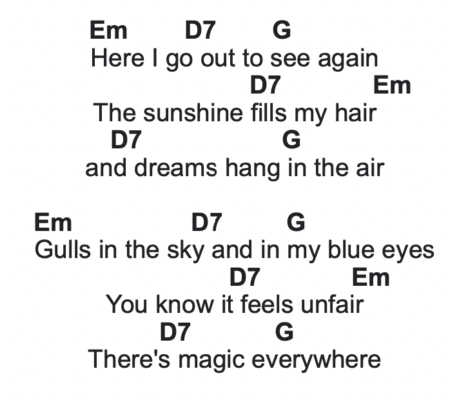 Bridge
The song Wonderful Life chords is composed of a chorus preceded by a bridge. The chords order changes on guitar and the Am is added. Help yourself to the following tab :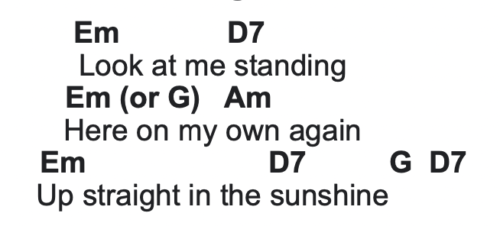 Chorus of Wonderful Life with chords
The last thing you need to do to master all Wonderful Life on your guitar is to play the chorus. Chords are the same. As you can see in the lyrics map, between part 1 and part 2 there is a bridge and a chorus that are different from the parts and that you have to learn to play the song :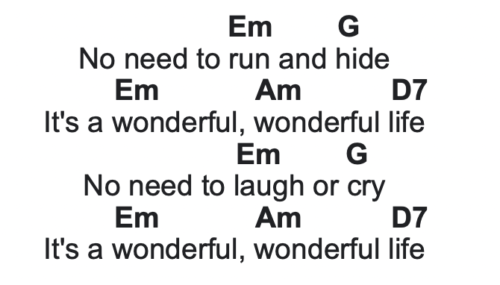 To find our guitar lessons, tabs, scores and scales, go to the Decibel Score homepage.
Wonderful Life lyrics
The song Wonderful Life chords is composed of two parts as well as a bridge and a chorus.
The lyrics are simple:
Part 1
Here I go out to see again
The sunshine fills my hair
And dreams hang in the air
Gulls in the sky and in my blue eyes
You know it feels unfair
There's magic everywhere
Bridge
Look at me standing
Here on my own again
Up straight in the sunshine
Chorus
No need to run and hide
It's a wonderful, wonderful life
No need to laugh or cry
It's a wonderful, wonderful life
Part 2
The sun's in your eyes, the heat is in your hair
They seem to hate you
Because you're there
And I need a friend, oh, I need a friend
To make me happy
Not stand there on my own
Bridge
Chorus
Try other styles with your guitar and play the latin song from Carlos Vives La Gota Fria with chords.
---
Our score summarizes everything we just covered. You can download it for free to play the song of Wonderful Life chords on guitar.