Easy tutorial for beginners with some explanations, the tab, the lyrics and the chords to play Ya Rayah chords by Rachid Taha on guitar.
Ya Rayah with chords
The two verses are played in the same way.
We will therefore only look at Chorus and verse 1.
Chorus of the song
Here are the three chords you will be using to play chorus :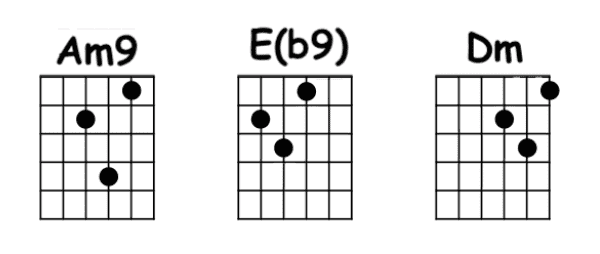 When you master those, you can follow the next tab to play chorus twice :
Remember that the chords are written above the lyrics so that you can play them at the right time. Therefore, it's better to play while singing. Chords that are to the right of a phrase (not above a word) are played between the two phrases.

Verse 1 of the music
To play the verses, you need to know three new chords :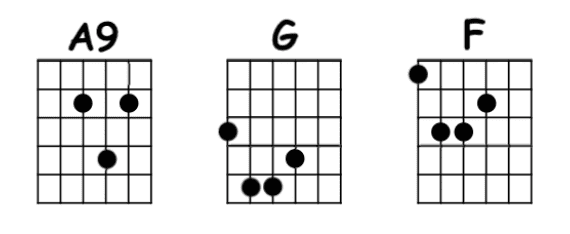 When you master those positions, you can follow the next framework to play verse 1 and, following the lyrics, verse 2 :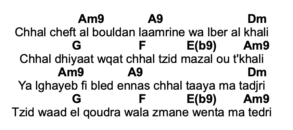 Ya Rayah video with tab
You can try to play an other oriental song like the famous jazz Caravan. Also, you can improvise watching for our oriental Spanish scale.
Ya Rayah lyrics
The song Ya Rayah by Rachid Taha is composed of a chorus and two verses.
The structure of the lyrics is simple:
Chorus – Verse 1 – Chorus – Verse 2
Chorus (x2)
Ya rayah win msafar trouh taaya wa twali
Chhal nadmou laabad el ghaflin qablak ou qabli
Verse 1
Chhal cheft al bouldan laamrine wa lber al khali
Chhal dhiyaat wqat chhal tzid mazal ou t'khali
Ya lghayeb fi bled ennas chhal taaya ma tadjri
Tzid waad el qoudra wala zmane wenta ma tedri
Chorus (x2)
Verse 2
Ya msafer naatik oussaayti addiha el bakri
Chouf ma yeslah bik qbal ma tbia ou ma techri
Ya nnayem djani khabrek ma sralek ma srali
Hakdha rad el qalb bel djbine sabhane el aali
If you start the guitar, we offer you other easy guitar chords on Decibel Score.
Easy score for beginners
The following score is a "home-made" easy score for beginners that we created according to the above frameworks and explanations.
This score summarizes everything we just covered. You can download it for free to play Ya Rayah by Rachid Taha on guitar.