Easy tutorial for beginners with some explanations, the tab, the lyrics and the chords to play the Bossa Nova Desafinado chords by Antonio Carlos Jobim and Newton Mendonça on guitar.
PDF score of Desafinado on guitar
Desafinado with chords
Verse 1 of Desafinado on guitar
Here are the chords you will need to know to play this first verse of Desafinado chords :

When you master those chords on guitar, you can follow the next tab to play verse 1 :
Remember that the chords are written above the lyrics so that you can play them at the right time. Therefore, it's better to play while singing. Chords that are to the right of a phrase (not above a word) are played between the two phrases.

Verse 2 | Desafinado with guitar chords
To play verse 2 of Desafinado, you will have to continue with the previous chords and add some new ones :

When you have the chords knew and mastered on guitar, you can follow the next tab to play the second verse :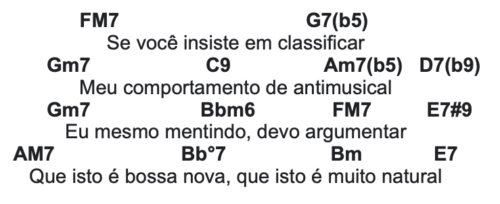 Verse 3 of the Bossa Nova Desafinado
You need to learn and master a few more chords to play this Bossa Nova tab for guitar. Take heart, there are not many left :

You can follow the tab of the third verse of Antônio Carlos Jobim's song Desafinado chords :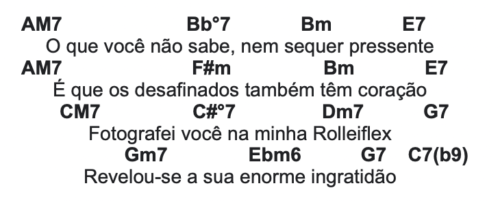 Verse 4 of Desafinado with chords
Here is the fourth and last verse of the bossa nova Desafinado. Two more chords to know in addition to the many you already know with your guitar :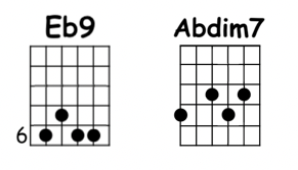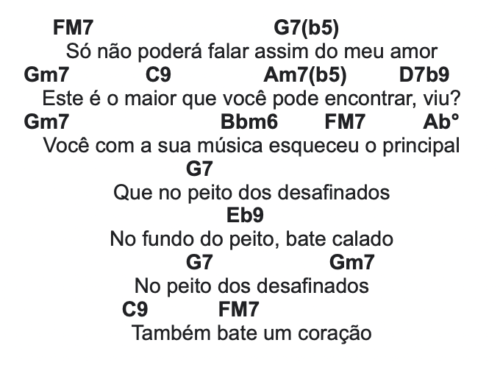 You can try to play other Bossa Nova's chords for guitar with Moça from Mariana Froes.
Desafinado lyrics
The Bossa Nova song Desafinado chords is composed of four verses.
Here are the lyrics :
Verse 1
Se você disser que eu desafino, amor
Saiba que isto em mim provoca imensa dor
Só privilegiados têm ouvido igual ao seu
Eu possuo apenas o que Deus me deu
Verse 2
Se você insiste em classificar
Meu comportamento de antimusical
Eu mesmo mentindo, devo argumentar
Que isto é bossa nova, que isto é muito natural
Verse 3
O que você não sabe, nem sequer pressente
É que os desafinados também têm coração
Fotografei você na minha Rolleiflex
Revelou-se a sua enorme ingratidão
Verse 4
Só não poderá falar assim do meu amor
Este é o maior que você pode encontrar, viu?
Você com a sua música esqueceu o principal
Que no peito dos desafinados
No fundo do peito, bate calado
No peito dos desafinados
Também bate um coração
Try to play the melody or to improvise on this music with our classe about guitar scales.
---
Our score summarizes everything we just covered. You can download it for free to play the Bossa Nova Desafinado chords by Antonio Carlos Jobim on guitar.