Easy tutorial for beginners with some explanations, the tab, the lyrics and the chords to play the Bossa Nova song Moça chords by Mariana Froes on guitar.
PDF score of Moça on guitar
Moça with chords
Chords of Moça by Mariana Froes
Before you start playing, here is the chords you will have to know for the whole song Moça chords :

When this positions are mastered, you can play following our explanations with tabs for guitar.
Verses 1 and 2 of Moça on guitar
We go to see how to play the two verses of Moça. To do this, you can follow the two next tabs with your guitar :
Remember that the chords are written above the lyrics so that you can play them at the right time. Therefore, it's better to play while singing. Chords that are to the right of a phrase (not above a word) are played between the two phrases.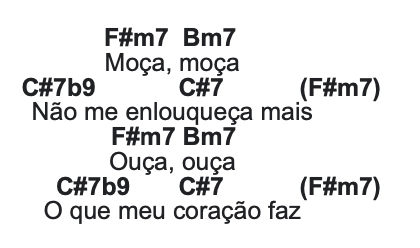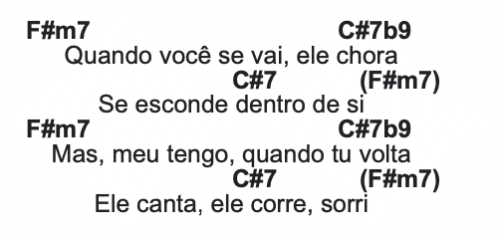 Chorus | Moça with guitar tab
To play the chorus of Moça chords on guitar, you don't need to know any new chords. You just have to follow this new tab and be careful to play the chords at the right time :

Bridge of Moça with chords
After the repetition of verses 1 and 2 and before ending with the ending, Moça consists of a bridge (a transition). Just follow the tab below to play the bridge :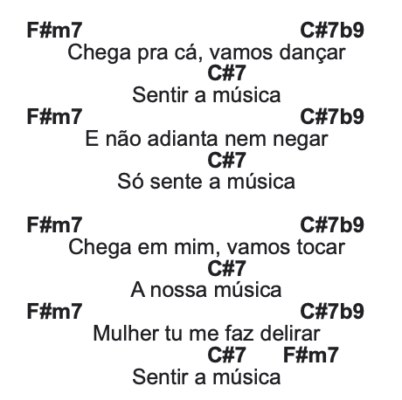 Ending of the Mariana Froes music
In order to finish, we will see the final part of Moça. To play this finale on the guitar, you just have to use the chords you have already learned. You just have to follow this last tab :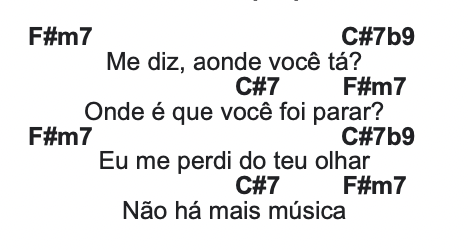 Learn more Bossa Nova guitar tabs on Decibel Score like the famous Desafinado de Antonio Carlos Jobim.
Moça lyrics
The bossa nova song Moça chords by Mariana Froes is composed of several parts.
Here is the structure of the lyrics :
Verse 1
Moça, moça
Não me enloqueça mais
Ouça, ouça
O que meu coração faz
Verse 2
Quando você se vai, ele chora
Se esconde dentro de si
Mas, meu tengo, quando tu volta
Ele canta, ele corre, sorri
Chorus
Vem pra cá, vem dançar
A vida é mais bonita com você pra acompanhar
Vem mulher, brilha
Rainha soberana, é estrela, é luar
Verse 1
Verse 2 (x2)
Chorus (x2)
Bridge (x2)
Chega pra cá, vamos dançar
Sentir a música
E não adianta nem negar
Só sente a música
Chega em mim, vamos tocar
A nossa música
Mulher tu me faz delirar
Sentir a música
Ending (x2)
Me diz, aonde você tá?
Onde é que você foi parar?
Eu me perdi do teu olhar
Não há mais música
If you are just starting out, you can go further, take our classes and learn the notes of the guitar.
---
Summarizes everything we just covered. You can download it for free to play the Bossa Nova music Moça chords by Mariana Froes on guitar.