Easy tutorial for beginners with some explanations, the tab, the lyrics and the chords to play Yesterday by The Beatles on guitar.
Yesterday with chords
The three verses are played in the same way.
We will therefore only look at verse 1 and chorus.
Verse 1 of the Beatles song
Here are the chords you will be using for verse 1 :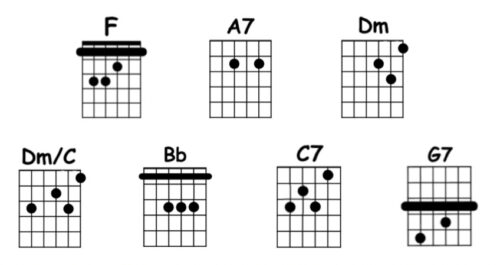 These chords are the only ones you need to know for the whole song
When you master those positions, you can follow the next tab to play the first verse …
… and, following the same framework, the verses 2 and 3.
Remember that the chords are written above the lyrics so that you can play them at the right time. Therefore, it's better to play while singing. Chords that are to the right of a phrase (not above a word) are played between the two phrases.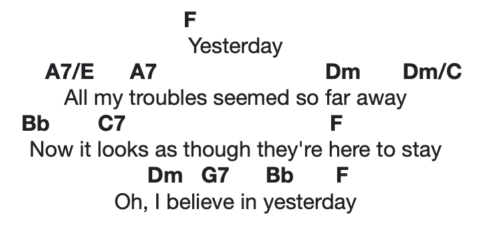 Chorus of Yesterday
For the chorus, you don't need to know any new chords. You can continue by following this tab :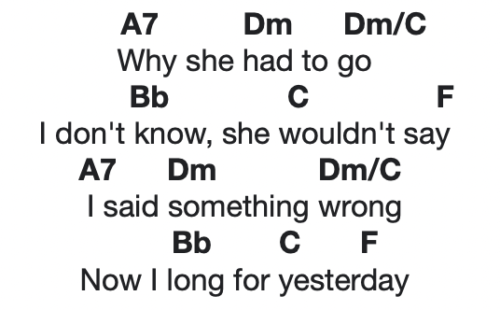 Yesterday video with tab
You can find other Rock guitar tab on Decibel Score and learn to play the pentatonic scale to improvise on this song.
Yesterday lyrics
The song Yesterday by The Beatles are composed of three verses and a chorus.
The structure of the lyrics is simple:
Verse 1 – Verse 2 – Chorus – Verse 3 – Chorus
Verse 1
Yesterday
All my troubles seemed so far away
Now it looks as though they're here to stay
Oh, I believe in yesterday
Verse 2
Suddenly
I'm not half the man I used to be
There's a shadow hanging over me
Oh, yesterday came suddenly
Chorus
Why she had to go
I don't know, she wouldn't say
I said something wrong
Now I long for yesterday
Verse 3
Yesterday
Love was such an easy game to play
Now I need a place to hide away
Oh, I believe in yesterday
Chorus
You can try to play an other music like the famous song of Louis Armstrong What a Wonderful World.
Easy PDF Beatles score to play Yesterday on guitar
The following score is a "home-made" easy PDF score for beginners that we created according to the above frameworks and explanations.
This score summarizes everything we just covered. You can download it for free to play the song Yesterday chords by The Beatles on guitar.