Wonderwall with chords
The two verses of Wonderwall are played in the same way.
We will therefore only look at verse 1 and chorus.
Verse 1 of the song
Here are the chords you will be using to play the first verse and the whole song :

When you master those, you can follow the next tab to play verse 1…
… and, following the same framework, verse 2.
Remember that the chords are written above the lyrics so that you can play them at the right time. Therefore, it's better to play while singing. Chords that are to the right of a phrase (not above a word) are played between the two phrases.

Chorus of the music
For the chorus, you don't need to know new chords. You can continue by following the tab :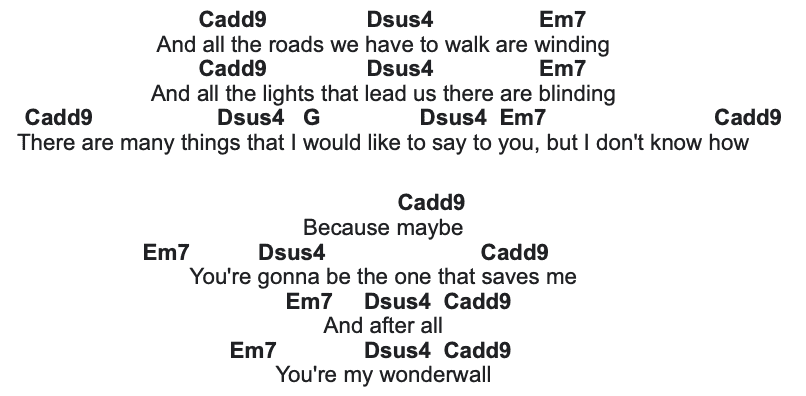 Try to improvise on Wonderwall with the pentatonic guitar scale.
Wonderwall lyrics
The lyrics of the song Wonderwall by Oasis are composed of two verses and a chorus.
The structure of the lyrics is simple :
Verse 1 – Verse 2 – Chorus – Verse 1 – Chorus
Verse 1
Today is gonna be the day that they're gonna throw it back to you
And by now, you should've somehow realised what you gotta do
I don't believe that anybody feels the way I do about you now
Verse 2
And backbeat, the word is on the street that the fire in your heart is out
I'm sure you've heard it all before, but you never really had a doubt
I don't believe that anybody feels the way I do about you now
Chorus
And all the roads we have to walk are winding
And all the lights that lead us there are blinding
There are many things that I would like to say to you, ut I don't know how
Because maybe
You're gonna be the one that saves me
And after all
You're my wonderwall
You can play other Rock guitar chords like the song of the Beatles Yesterday.
Easy PDF score of Oasis to play Wonderwall on guitar
The following score is a "home-made" easy PDF score for beginners that we created according to the above frameworks and explanations.
This score summarizes everything we just covered. You can download it for free to play the song Wonderwall chords by Oasis on guitar.