Easy tutorial for beginners with some explanations, the tab, the lyrics and the chords to play Los peces en el rio sung by Lhasa on guitar.
Los peces en el rio with chords
The three parts are played in the same way.
We will therefore only look at part 1.
Part 1 of the song
Here are the two chords you will be using to play part 1 and whole song :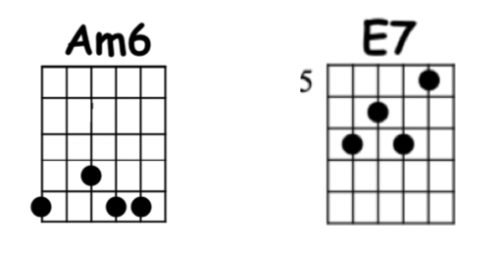 Verse
When you master those chords, you can follow the next tab to play the verse :
Remember that the chords are written above the lyrics so that you can play them at the right time. Therefore, it's better to play while singing. Chords that are to the right of a phrase (not above a word) are played between the two phrases.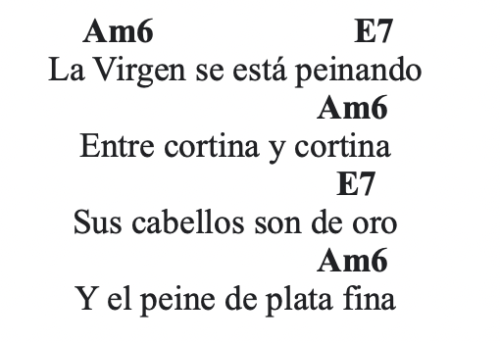 Chorus
To play the chorus, you don't need to know any new chords.
You can continue by following this tab :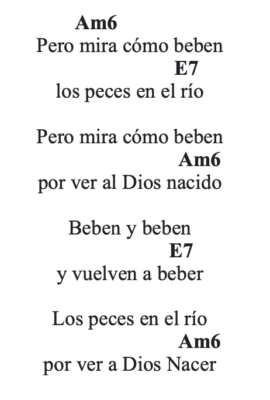 Los peces en el rio video with tab
You can play other latin music like the song of Buika No Habra Nadie en el Mundo.
Los peces en el rio lyrics
The song Los peces en el rio by Lhasa is composed of three parts. Each part is composed of one verse and a chorus.
The structure of the lyrics is simple:
Part 1 – Part 2 – Part 3.
Part 1
Verse 1
La Virgen se está peinando
Entre cortina y cortina
Sus cabellos son de oro
Y el peine de plata fina
Chorus
Pero mira cómo beben los peces en el río
Pero mira cómo beben por ver al Dios nacido
Beben y beben y vuelven a beber
Los peces en el río por ver a Dios nacer
Part 2
Verse 2
La Virgen está lavando
Y tendiendo en el romero
Los angelitos cantando
Y el romero florecido
Chorus
Part 3
Verse 3
La Virgen se está lavando
Con un poquito de jabón
Se le picaron las manos
Manos de mi corazón
Chorus
You can try to improvise watching for the major and minor guitar scales and find all our chords, tabs and guitar classes.
Los peces en el rio history
The song Los peces en el rio is a Christmas song very popular in Spain and South America.
If the origin of this song is unknown, we know that it started to be so famous during the 20th century.
The interpretations of this cante are various but some are very appreciated such as the version of Manolo Escobar, of Lhasa, or in rumba by the Gipsy Kings.
Easy score for beginners
The following score is a "home-made" easy score for beginners that we created according to the above frameworks and explanations.
This score summarizes everything we just covered. You can download it for free to play Los peces en el rio by Lhasa on guitar.