No Habra Nadie en el Mundo with chords
The parts 1 and 2 are played in the same way.
The two verses of each part are played in the same way too.
We will therefore only look at the verse 1 of part 1 and the chorus.
Verse 1 of the song
Here are the chords you will be using in verse 1 of part 1 :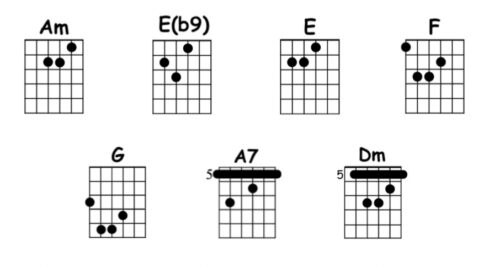 When you master those positions, you can follow the next framework to play verse 1 of part :
Remember that the chords are written above the lyrics so that you can play them at the right time. Therefore, it's better to play while singing. Chords that are to the right of a phrase (not above a word) are played between the two phrases.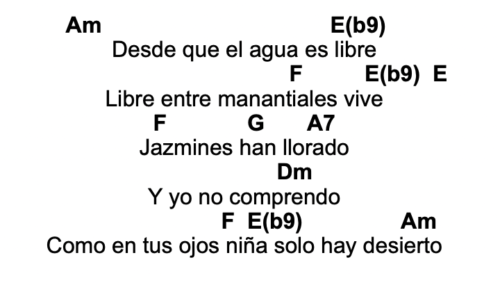 The second verse is played in the same way as the first verse. You have to follow the lyrics and play the same chords at the same time.
Chorus of the music
For the chorus, you need to know two new chords (for the Am is just an other position) :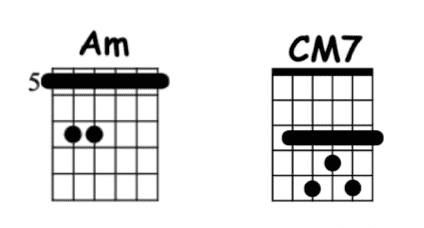 When you master this chords and the first ones, you can continue by following this tab to play the chorus :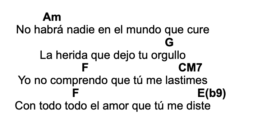 No Habra Nadie en el Mundo video with tab
You can also play other latin music tabs like No soy de aqui Ni soy de alla de Cafrune y Cabral.
No Habra Nadie en el Mundo lyrics
The song No Habra Nadie En El Mundo by Buika is composed of two parts and a chorus. Each part is composed of two verses.
The structure of the lyrics is simple:
Part 1 – Chorus – Part 2 – Chorus
Part 1
Desde que el agua es libre
Libre entre manantiales vive
Jazmines han llorado
Y yo no comprendo
Como en tus ojos niña solo hay desierto
Hermosa era la tarde
Cuando entre los olivos nadie
Nadie vio como yo a ti te quise
Como te quiero
Hoy los olivos duermen y yo no duermo
Chorus
No habrá nadie en el mundo
Que cure la herida que dejo tu orgullo
Yo no comprendo que tú me lastimes
Con todo todo el amor que tú me diste
Part 2
Pa' cuando tú volvieras
Pensé en cantarte coplas viejas
Esas que hablan de amores
Y de sufrimiento
Cuando tú vuelvas niña, te como a besos
Y volaremos alto
Donde las nubes van despacio
Despacio va mi boca
Sobre tu cuerpo
Tan lento que seguro se pare el tiempo
Chorus
To learn to play bar chords, you can follow our guitar lessons.
Easy score for beginners
The following score is a "home-made" easy score for beginners that we created according to the above frameworks and explanations.
This score summarizes everything we just covered. You can download it for free to play No Habra Nadie En El Mundo by Buika on guitar.