PDF score of La Tendresse on guitar
La Tendresse with chords
Verse 1 of La Tendresse chords
Here are the chords you will need to know to play the first verses and the whole song La Tendresse chords :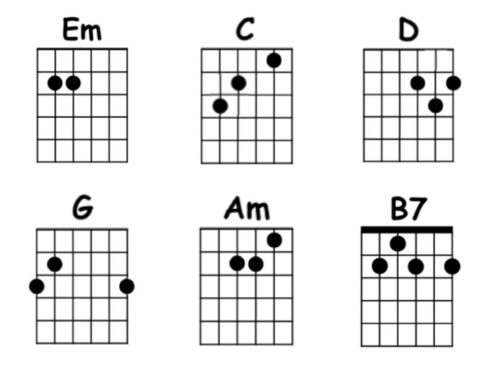 When you are done working on these chords and master them on guitar, you can follow the next tab to play the first verse … (and, following the same framework, each verse of the song).
Remember that the chords are written above the lyrics so that you can play them at the right time. Therefore, it's better to play while singing. Chords that are to the right of a phrase (not above a word) are played between the two phrases.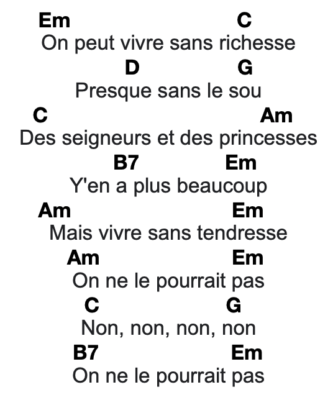 Brigde of La Tendresse on guitar
To play bridge 1 as well as bridge 2 of La Tendresse, no need to know new chords. Just follow and play the next tab :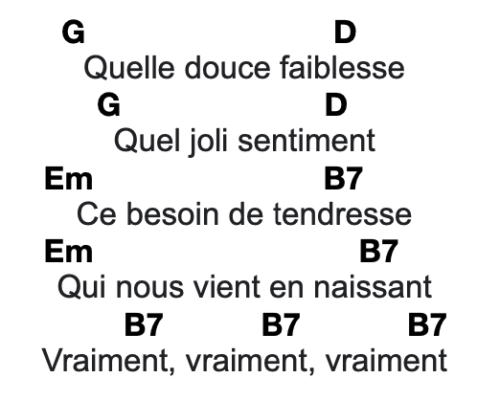 You can play other French guitar song like the famous La vie en rose.
La Tendresse lyrics
The song La Tendresse chords by Bourvil is composed of six verses and two brigdes.
The structure of the lyrics is a bit complex :
Verse 1 – Verse 2 – Bridge 1 – Verse 3 – Verse 4 – Verse 5 – Bridge 2 – Verse 6
Verse 1
On peut vivre sans richesse
Presque sans le sou
Des seigneurs et des princesses
Y'en a plus beaucoup
Mais vivre sans tendresse
On ne le pourrait pas
Non, non, non, non
On ne le pourrait pas
Verse 2
On peut vivre sans la gloire
Qui ne prouve rien
Etre inconnu dans l'histoire
Et s'en trouver bien
Mais vivre sans tendresse
Il n'en est pas question
Non, non, non, non
Il n'en est pas question
Bridge 1
Quelle douce faiblesse
Quel joli sentiment
Ce besoin de tendresse
Qui nous vient en naissant
Vraiment, vraiment, vraiment
Verse 3
Le travail est nécessaire
Mais s'il faut rester
Des semaines sans rien faire
Eh bien, on s'y fait
Mais vivre sans tendresse
Le temps vous paraît long
Long, long, long, long
Le temps vous parait long
Verse 4
Dans le feu de la jeunesse
Naissent les plaisirs
Et l'amour fait des prouesses
Pour nous éblouir
Oui mais sans la tendresse
L'amour ne serait rien
Non, non, non, non
L'amour ne serait rien
Verse 5
Quand la vie impitoyable
Vous tombe dessus
On n'est plus qu'un pauvre diable
Broyé et déçu
Alors sans la tendresse
D'un cur qui nous soutient
Non, non, non, non
On n'irait pas plus loin
Bridge 2
Un enfant nous embrasse
Parce qu'on le rend heureux
Tous nos chagrins s'effacent
On a les larmes aux yeux
Mon Dieu, mon Dieu, mon Dieu
Verse 6
Dans votre immense sagesse
Immense ferveur
Faites donc pleuvoir sans cesse
Au fond de nos curs
Des torrents de tendresse
Pour que règne l'amour
Règne l'amour
Jusqu'à la fin des jours
You can also watch for another easy guitar tab.
---
Our score summarizes everything we just covered. You can download it for free to play the French song La Tendresse by Bourvil on guitar.