Easy tutorial for beginners with some explanations, the tab, the lyrics and the chords to play the song Creep chords by Radiohead on guitar.
Creep with chords
The five verses of the song are played on the same way.
So we will look only at verse 1 and chorus.
Chords of Creep
Here are the four chords you will need to master to play the whole song :

When this chords are mastered, you can continue by following the next explanations.
Verse 1 of the music
To play the first verse of the song, you can look at the following tab with the help of the previous chords :
Remember that the chords are written above the lyrics so that you can play them at the right time. Therefore, it's better to play while singing. Chords that are to the right of a phrase (not above a word) are played between the two phrases.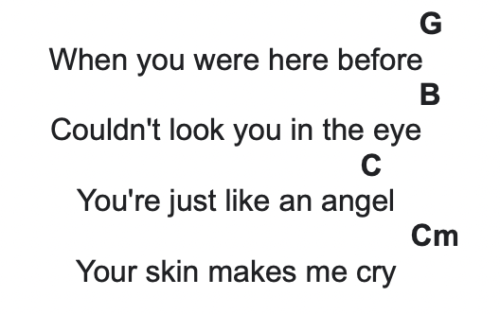 Verses 2, 3, 4 and 5 are played exactly the same way as this verse. Just follow the lyrics.
Play other guitar tabs like No Woman No Cry by Bob Marley.
Chorus of the song
This chorus is repeated three times and follows the same melody. So you can look at the next tab but you can just read the lyrics and continue to play the same chords as in verse 1 following the same rhythm.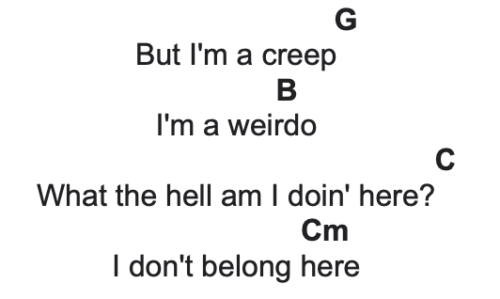 You can find other rock tabs for guitar on Decibel Score.
Creep lyrics
The song Creep by Radiohead is composed of three verses and a chorus.
The structure of the lyrics is like that:
Verse 1 – Verse 2 – Chorus – Verse 3 – Verse 4 – Chorus – Bridge – Verse 5 – Chorus
Verse 1
When you were here before
Couldn't look you in the eye
You're just like an angel
Your skin makes me cry
Verse 2
You float like a feather
In a beautiful world
I wish I was special
You're so fuckin' special
Chorus
But I'm a creep
I'm a weirdo
What the hell am I doing here?
I don't belong here
Verse 3
I don't care if it hurts
I wanna have control
I want a perfect body
I want a perfect soul
Verse 4
I want you to notice
When I'm not around
You're so fuckin' special
I wish I was special
Chorus
Bridge
She's running out the door
She's running out
She run, run, run, run
Run
Verse 5
Whatever makes you happy
Whatever you want
You're so fuckin' special
I wish I was special
Chorus
Before play, don't forget to tune your guitar with our online tuner.
Easy PDF score to play Creep from Radiohead
The following score is a "home-made" easy PDF score for beginners that we created according to the above frameworks and explanations.
Summarizes everything we just covered. You can download it for free to play Creep by Radiohead on guitar.