Easy tutorial for beginners with some explanations, the tab, the lyrics and the chords to play the jazz Summertime chords by George Gershwin on guitar.
Summertime with chords
The three parts are played in the same way.
We will therefore only look at introduction and verse 1.
Introduction of the jazz song
Before starting the song, you can play about two repetitive chords. You can start over the grid as many times as you want :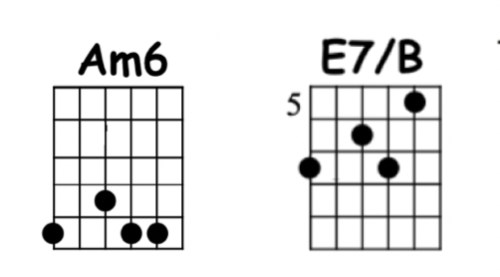 Part 1 of Summertime
Here are the new chords you will need to know for part 1 (and the other).
There are a lot of them, so I advise you to learn them and play them a little before you start following the tab :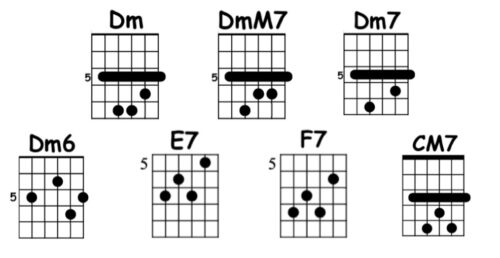 When you master those chords, you can look the next framework to play part 1 and, following the lyrics, the whole song :
Remember that the chords are written above the lyrics so that you can play them at the right time. Therefore, it's better to play while singing. Chords that are to the right of a phrase (not above a word) are played between the two phrases.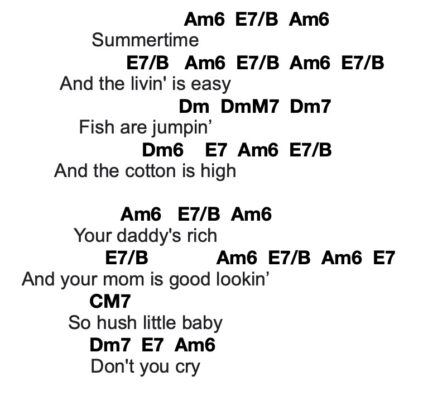 Summertime video with tab
Play other jazz song or Gypsy Jazz Guitar Chords on Decibel Score like the song of Disney Everybody Wants to Be a Cat.
Summertime Jazz history
Summertime is a jazz standard written by George Gershwin in 1935. Composed as a lullaby, it quickly becomes a classic of the jazz scenes.
The music is played in jazz from the end of the 30's by Sidney Bechet (1939) and then played by the greats like Chet Backer, Miles Davis, John Coltrane, Duke Ellington, Bill Evans, Stan Getz or George Benson and sung by Ella Fitzgerald and Louis Armstrong, Billie Holiday, Nina Simone or Ray Charles.
The success turns Summertime into a universal song, sung in Rock by The Beatles or Janis Joplin, played in Gipsy Jazz by Django Reinhardt, Stéphane Grappelli or Biréli Lagrène and even in Bossa Nova by Caetano Veloso.
Summertime lyrics
The jazz song Summertime is composed of to parts.
The structure of the lyrics is simple:
Part 1 – Part 2
Part 1
Summertime
And the livin' is easy
Fish are jumpin'
And the cotton is high
Your daddy's rich
And your mom is good lookin'
So hush little baby
Don't you cry
Part 2
One of these mornings
You're gonna rise up singing
You're gonna spread your wings
And you'll take to the sky
Until that morning
There ain't nothing gonna harm you
With daddy and mommy standing by
Find all our guitar lessons and tabs on Decibel Score.
Jazz score for guitar
The following score is a "home-made" a jazz score that we created according to the above frameworks and explanations.
Summarizes everything we just covered. You can download it for free to play the jazz song Summertime by George Gershwin on guitar.