Nostalgias with chords
Part 1 of Nostalgias with chords
The first part of Nostalgias chords has several chords but they are almost all the ones you will find in the song. So a first effort with your guitar and you are almost done.
Here are the chords you will be using in part 1 :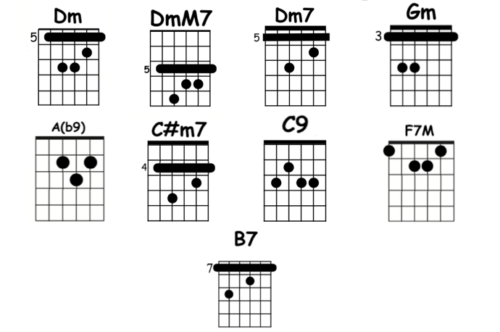 When you master those, you can follow the next tab to play part 1 :
Remember that the chords are written above the lyrics so that you can play them at the right time. Therefore, it's better to play while singing. Chords that are to the right of a phrase (not above a word) are played between the two phrases.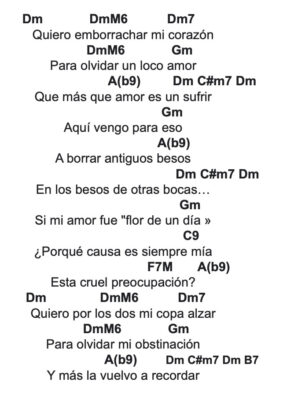 Chorus of Nostalgias on guitar
For the chorus, only 3 chords are added. I put only the new chords that you will have to know on guitar for the chorus of Nostalgias (the ones you already know have to be ready) :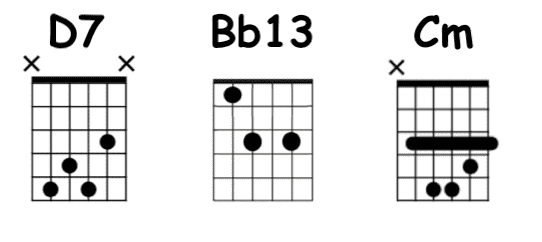 When you master those positions and the previous, you can follow the next tab to play the chorus :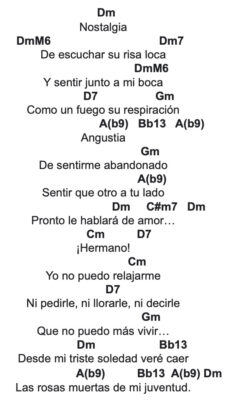 You can play other latin songs like the bolero Piel Canela or the famous music of Coco La Llorona.
Nostalgias lyrics
The tango Nostalgias chords is composed of two parts and a chorus.
The structure of the lyrics is simple:
Part 1 – Chorus – Part 2 – Chorus.
Part 1
Quiero emborrachar mi corazón
Para olvidar un loco amor
Que más que amor es un sufrir…
Aquí vengo para eso,
A borrar antiguos besos
En los besos de otras bocas…
Si mi amor fue "flor de un día"
¿Porqué causa es siempre mía
Esta cruel preocupación?
Quiero por los dos mi copa alzar
Para olvidar mi obstinación
Y más la vuelvo a recordar.
Chorus
Nostalgia
De escuchar su risa loca
Y sentir junto a mi boca
Como un fuego su respiración.
Angustia
De sentirme abandonado
Sentir que otro a tu lado
Pronto le hablará de amor…
¡Hermano!
Yo no puedo relajarme,
Ni pedirle, ni llorarle,
Ni decirle que no puedo más vivir…
Desde mi triste soledad veré caer
Las rosas muertas de mi juventud.
Part 2
Gime, bandoneón, tu tango gris,
Quizá a ti te hiera igual
Algún amor sentimental…
Llora mi alma de fantoche
Sola y triste en esta noche,
Noche negra y sin estrellas…
Si las copas traen consuelo
Aquí estoy con mi desvelo
Para ahogarlos de una vez…
Quiero emborrachar mi corazón
Para después poder brindar
"Por los fracasos del amor"
Chorus
Nostalgias history
Nostalgias chords is a tango written in 1935. History says that this tango was written in Paraguay, very close to the famous land of tango : Argentina. It is therefore of Argentine heritage : we owe the music to the composer Juan Carlos Cobián while the lyrics were written by the poet Enrique Cadícamo (who wrote other tango masterpieces such as Los Mareados or Niebla del Riachuelo).
A man speaks directly to us : the lyrics of the tango Nostalgias are in the first person singular. It evokes a lost love, the impossibility of finding it again, the loneliness and the anguish that eats away at him. So he will drink, he will drink again, he will kiss other mouths to try to calm this pain, in vain. In vain because the song ends with these words: "desde mi triste soledad veré caer las rosas muertas de mi juventud" ("from my sad loneliness I will see the dead roses of my youth fall").
This famous tango that is Nostalgias has been interpreted in many different versions : in flamenco by Diego el Cigala and Buika or in Latin jazz by Andrès Calamaro, among others. It was also played in tango style on bandoneon by the great Astor Piazzola.
To learn more about tango, you can read our article : History of Tango
---
Our score summarizes everything we just covered. You can download it for free to play the tango Nostalgias chords on guitar.