Easy tutorial for beginners with some explanations, the tab, the lyrics and the chords to play the song My Way chords from Franck Sinatra on guitar.
---
PDF Score of My Way on guitar
My Way with chords
Part 1 of My Way on guitar
Here are the chords you will be using in verse 1 of My Way chords. There are several but note that there is a variation of three G chords and three Am chords.
This variation is a descent quite used in the Jazz Manouche or in the flamenco and Latin musics. We analyze this one in a dedicated course.
I advise you to look at and practice these chords on guitar for a while before you start playing.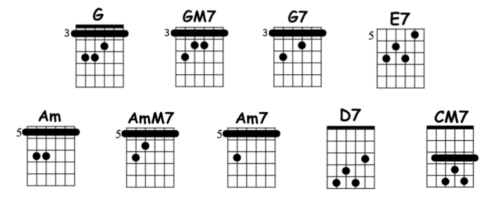 When you master those chords, you can follow the next tab to play part 1.
Remember that the chords are written above the lyrics so that you can play them at the right time. Therefore, it's better to play while singing. Chords that are to the right of a phrase (not above a word) are played between the two phrases.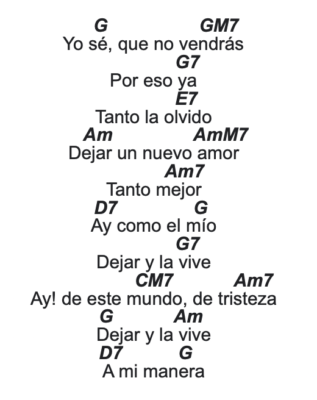 Part 2 of My Way chords
For the part 2, you need to know two new chords on your guitar.
You will also have to play some chords from the first part so if you haven't seen it for a while, take a look at the chords again.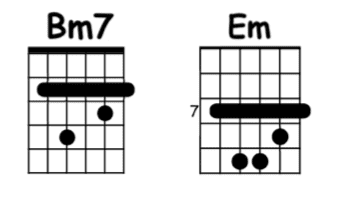 When you have the positions ready, you can follow the framework to play the last verse of My Way :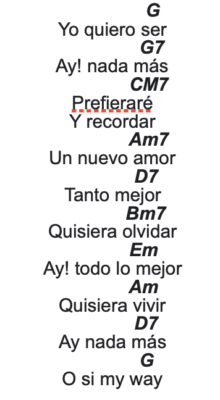 If you want to play other French guitar song, you can try the famous La vie en rose.
---
My Way lyrics
The song My Way chords from Franck Sinatra is composed of five parts.
The structure of the lyrics is simple:
Part 1 – Part 2 – Part 3 – Part 4 – Part 5
Parte 1
And now, the end is near
And so I face the final curtain
My friend, I'll say it clear
I'll state my case, of which I'm certain
I've lived a life that's full
I traveled each and every highway
And more, much more than this, I did it my way
Parte 2
Regrets, I've had a few
But then again, too few to mention
I did what I had to do
And saw it through without exemption
I planned each charted course
Each careful step along the byway
And more, much more than this, I did it my way
Parte 3
Yes, there were times, I'm sure you knew
When I bit off more than I could chew
But through it all, when there was doubt
I ate it up and spit it out
I faced it all and I stood tall and did it my way
Parte 4
I've loved, I've laughed and cried
I've had my fill, my share of losing
And now, as tears subside
I find it all so amusing
To think I did all that
And may I say, not in a shy way
Oh, no, oh, no, not me, I did it my way
Parte 5
For what is a man, what has he got?
If not himself, then he has naught
To say the things he truly feels
And not the words of one who kneels
The record shows
I took the blows
And did it my way
You can also play another jazz guitar tab.
---
My Way history
"Comme d'Habitude" literally "As always", which can be heard under the title "A Mi Manera" in Spanish or My Way in English, is a French song from 1967.
We owe the melody and lyrics to the French composer Jacques Revaux who wrote it in a hurry for a producer's request. Nothing very mysterious. But the song will become a huge success until it becomes one of the most sung songs in the world.
It is the French singer Claude François who inherits the song and who, already very famous, begins in 1967 to give to listen to Comme d'Habitude.
Two years later, in 1969, it is the great Franck Sinatra who interprets in Jazz an English translation of the song entitled My Way chords. Since then, it becomes a great success. The English version will be sung by Mike Brant, Nina Simone, Tom Jones, Ray Charles and even Elvis Presley.
The song became famous in the 1990s when the French group Gipsy Kings translated the song into Spanish and played it in flamenco style on guitar under the title A Mi Manera.
Today, it remains one of the most translated songs in the world.
---
This score summarizes everything we just covered. You can download it for free to play the song My Way chords from Franck Sinatra on guitar.