Easy tutorial for beginners with some explanations, the tab, the lyrics and the chords to play the song Mr Bojangles chords by Jerry Jeff Walker on guitar.
Mr Bojangles with chords
The five verses of the song are played on the same way.
So we will look only at verse 1 and chorus.
Chords | Mr Bojangles
Here are the chords you will need to master to play the whole song Mr Bojangles sung by Nina Simone :

When this chords are mastered, you can continue by following the next explanations or look the PDF score for guitar.
If you start with the guitar, read our classes and learn the notes of the guitar fretboard.
Verse 1 of the music sung by Nina Simone
To play the first verse of this song also sung by Robbie Williams, you can have a look at the following tab with the help of the previous chords :
Remember that the chords are written above the lyrics so that you can play them at the right time. Therefore, it's better to play while singing. Chords that are to the right of a phrase (not above a word) are played between the two phrases.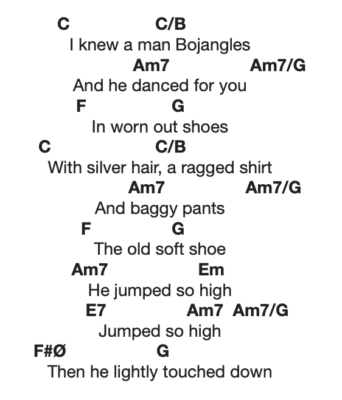 Verses 2, 3, 4 and 5 are played exactly the same way as this verse. Just follow the lyrics.
Chorus of the song played by Robbie Williams
To play the chorus of the music Mr Bojangles also played by Sammy Davis JR, no additional difficulty because the chords et rhythm do not change. You just have to take a look at the following tab :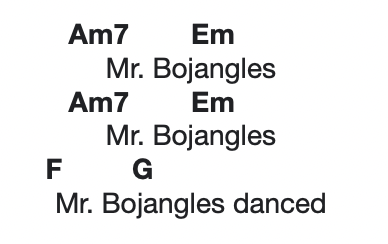 Mr Bojangles video with tab
You can try an other style and play the standard of jazz Cry Me a River chords.
Mr Bojangles lyrics
The song Mr Bojangles chords also sung by Bob Dylan is composed of five verses and a chorus.
The structure of the lyrics is like that:
Verse 1 – Verse 2 – Chorus – Verse 3 – Verse 4 – Chorus – Verse 5 – Chorus
Verse 1
I knew a man Bojangles
And he danced for you
In worn out shoes
With silver hair, a ragged shirt
And baggy pants
The old soft shoe
He jumped so high
Jumped so high
Then he lightly touched down
Verse 2
I met him in a cell in New Orleans
I was down and out
He looked at me to be
The eyes of age
As he spoke right out
He talked of life
He talked of life
He laughed and slapped his leg a step
Chorus
Mr. Bojangles
Mr. Bojangles
Mr. Bojangles danced
Verse 3
He said his name, Bojangles
Then he danced a lick
Across the cell
He grabbed his pants,
A better stance
Oh, he jumped up high
He clicked his heels
He let go a laugh
Let go a laugh
He stood up and shook back his clothes all around
Verse 4
He danced for those at minstrel shows
And county fairs
Throughout the south
He spoke with tears
Of fifteen years
How his dog and he traveled about
His dog up and died
He just up and died
After twenty years he still grieved
Chorus
Verse 5
He said, I dance now at every chance
In honky tonks
For drinks and tips
But most of the time I spend behind
These county bars
He said, I drinks a bit
He shook his head
And as he shook his head
I heard someone respectfully ask, please
Chorus
Find all our tabs and PDF guitar score on Decibel Score.
PDF score to play Mr Bojangles on guitar
The following score is a "home-made" easy PDF score for beginners that we created according to the above frameworks and explanations.
Summarizes everything we just covered. You can download it for free to play the song Mr Bojangles chords from Jerry Jeff Walker on guitar.