Easy tutorial for beginners with some explanations, the tab, the lyrics and the chords to play the jazz standard Lullaby of Birdland chords on guitar.
Lullaby of Birdland with chords
The three verses are almost played in the same way.
We will therefore only look at first verse, end of verse 2 and chorus.
Verse 1 | Jazz standard
To play the first verse of this jazz standard, you will need to know and work with your guitar some first chords – don't worry, there will be only one to know for the chorus :

When these positions are mastered, you can follow the following tab to play the first verse :
Remember that the chords are written above the lyrics so that you can play them at the right time. Therefore, it's better to play while singing. Chords that are to the right of a phrase (not above a word) are played between the two phrases.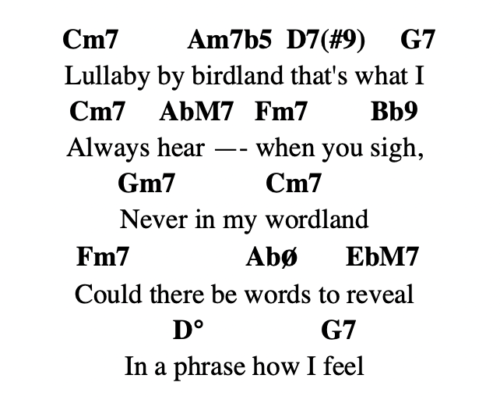 Verses 2 and 3 | Song with chords
As you can see in the lyrics part, the Lullaby of Birdland chords song is composed of three verses and they are all played almost the same way.
The verses 2 and 3 are played like verse 1 but the two chords of the last phrase change :

Chorus | Lullaby of Birdland
To play the chorus of this jazz chords, you'll have to know and work a last chord with your guitar :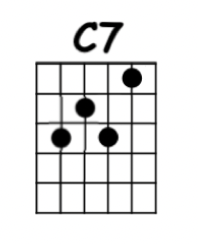 When this position as well as the previous ones are mastered, you just have to read and play the next tab :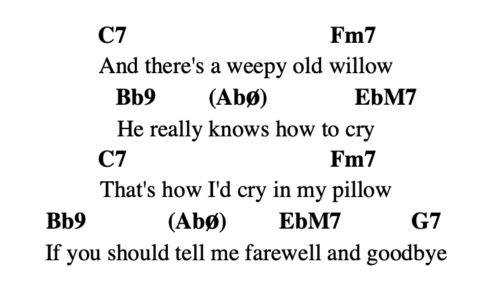 Play the famous Gypsy Jazz of Django Reinhardt Nuages chords.
Lullaby of Birdland video with tab
Use our online guitar tuner to tune your guitar before playing.
Lullaby of Birdland lyrics
The jazz standard Lullaby of Birdland is composed of three verses and a chorus.
The structure of the lyrics is simple:
Verse 1 – Verse 2 – Chorus – Verse 3
Verse 1
Lullaby by birdland that's what I
Always hear, when you sigh,
Never in my wordland
Could there be words to reveal
In a phrase how I feel
Verse 2
Have you ever heard two turtle doves
Bill and coo, when they love?
That's the kind of magic
Music we made with our lips
When we kiss
Chorus
And there's a weepy old willow
He really knows how to cry
That's how I'd cry in my pillow
If you should tell me farewell and goodbye
Verse 3
Lullaby by birdland whisper low
Kiss me sweet, and we'll go
Flying high in birdland
High in the sky up above
All because we're in love
Find all our lessons and guitar chords on Decibel Score.
Easy jazz PDF score for beginners
The following score is a "home-made" PDF score for beginners that we created according to the above frameworks and explanations.
This score summarizes everything we just covered. You can download it for free to play the jazz standard Lullaby of Birdland chords on guitar.