Easy tutorial for beginners with some explanations, the tab, the lyrics and the chords to play the song Fly Me to the Moon chords by Franck Sinatra on guitar.
Fly Me to the Moon with chords
The two verses of the song are almost played on the same way.
So we will look at verse 1 and piece of verse 2.
Chords of Fly Me to the Moon
Here are the few chords positions you will need to know to play this song by Franck Sinatra :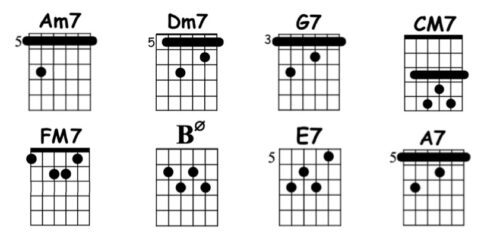 When this chords are knew and mastered, you can continue by looking the next tabs.
Verse 1 of the song
To play the first verse of the music, you can look at the following tab using the chords you just worked on :
Remember that the chords are written above the lyrics so that you can play them at the right time. Therefore, it's better to play while singing. Chords that are to the right of a phrase (not above a word) are played between the two phrases.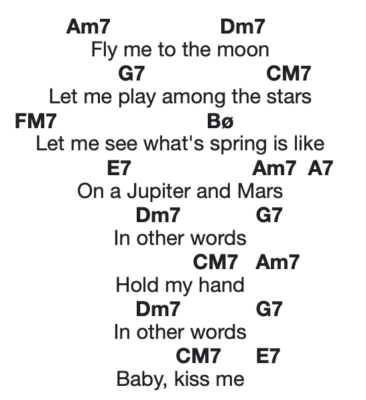 If you want to improvise on this music, you can watch our classe about scales on guitar. Don't forget to tune your instrument with our online tuner !
Verse 2 of the music
As I said before, the two verses that make up this Jazz song play almost identically. There is only a small variation on one of the last phrases.
First you'll have to know a last chord, the Em7 :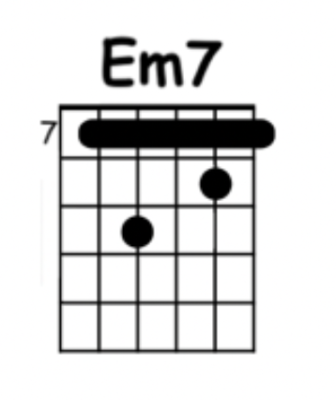 Then you can look at the guitar tab of the second verse that I'm putting in full but know that, except for the phrase circled in blue, you can play the rest the same way as for the first verse. Only the lyrics change.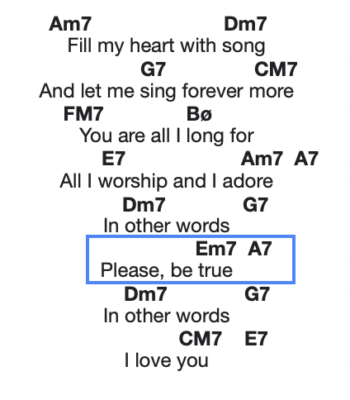 Play other jazz standard chords on Decibel Score.
Fly Me to the Moon video with tab
Fly Me to the Moon lyrics
The song Fly Me to the Moon by Franck Sinatra is composed of two verses.
The structure of the lyrics is like that:
Verse 1 – Verse 2
Verse 1
Fly me to the moon
Let me play among the stars
Let me see what's spring is like
On a Jupiter and Mars
In other words
Hold my hand
In other words
Baby, kiss me
Verse 2
Fill my heart with song
And let me sing forever more
You are all I long for
All I worship and I adore
In other words
Please, be true
In other words
I love you
Change your style and try your hand at Rock|Blues with the traditional song covered by Creedence Clearwater Revival Midnight Special.
Easy PDF score to play Fly Me to the Moon by Franck Sinatra
The following score is a "home-made" easy PDF score for beginners that we created according to the above frameworks and explanations.
Summarizes everything we just covered. You can download it for free to play Fly Me to the Moon by Franck Sinatra on guitar.