Flaca with chords
Chorus of Flaca on guitar
The song starts with the refrain. The chorus of Flaca chords has two verses and each verse is played the same.
Here are the chords you will need to know for the chorus and the whole song :

These are the same for the whole song. So when they are mastered on guitar, you can continue and play the tab :
Remember that the chords are written above the lyrics so that you can play them at the right time. Therefore, it's better to play while singing. Chords that are to the right of a phrase (not above a word) are played between the two phrases.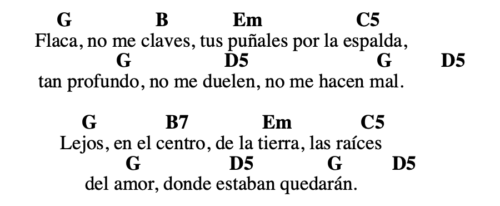 Verse 1 of Flaca with chords
For the verses of Flaca, you don't need to know any new chords with your guitar.
You can follow this tab to play verse 1 and, following the lyrics, to play verse 2 and verse 3 :

If you want to play other latin song chords, you can watch our Fuentes de Ortiz Tab.
Flaca lyrics
The song Flaca chords by Andrés Calamaro is composed of three verses and a chorus.
The structure of the lyrics is simple:
Chorus – Verse 1 – Verse 2 – Verse 3 – Chorus
Chorus
Flaca, no me claves, tus puñales, por la espalda
Tan profundo, no me duelen, no me hacen mal
Lejos, en el centro, de la tierra, las raíces,
Del amor, donde estaban, quedarán
Entre el no me olvides
Me dejes nuestros abriles olvidados
En el fondo del placard
Del cuarto de invitados
Eran tiempos dorados
De un pasado mejor
Verse 2
Aunque casi me equivoco
Y te digo poco a poco
No me mientas
No me digas la verdad
No te quedes callada
No levantes la voz
Ni me pidas perdón
Verse 3
Aunque casi te confieso
Que también he sido un perro compañero
Un perro ideal que aprendió a nadar
Y a volver al hogar
Para poder comer
Chorus
You can also find all our classes and guitar chords on Decibel Score.
---
Our score summarizes everything we just covered. You can download it for free to play the latin song of rock Flaca chords by Andrés Calamaro on guitar.