Easy tutorial for beginners with some explanations, the tab, the lyrics and the chords to play the song of tango Desencuentro chords by Anibal Troilo sung by Roberto Goyeneche on guitar.
PDF score of Desencuentro on guitare
Desencuentro with chords
Part 1 of Desencuentro on guitar
Before you start playing the first part of Desencuentro chords, you will need to know these chords.
These are many and some of them are a bit difficult to play on guitar. So I advise you to practice them a little before you start this tab of tango.
There are are the same for the first and second verse :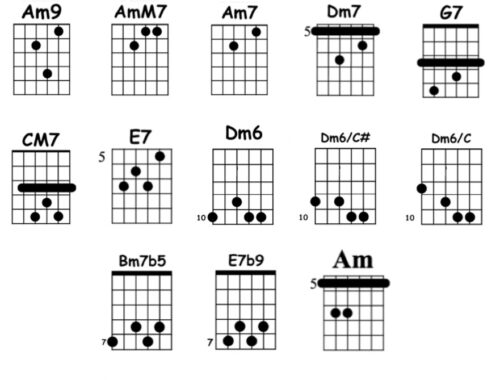 First verse of Desencuentro with chords
When you master those chords, you can follow the next tab to play verse 1 of Desencuentro.
Remember that the chords are written above the lyrics so that you can play them at the right time. Therefore, it's better to play while singing. Chords that are to the right of a phrase (not above a word) are played between the two phrases.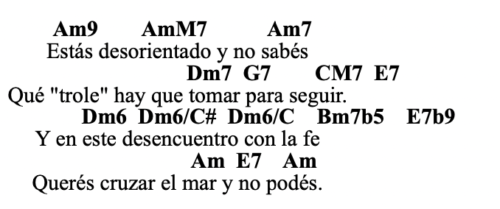 Second verse of this tango for guitar
For the second verse, you don't need to know any new chords. Just continue and play by following this tab with your guitar :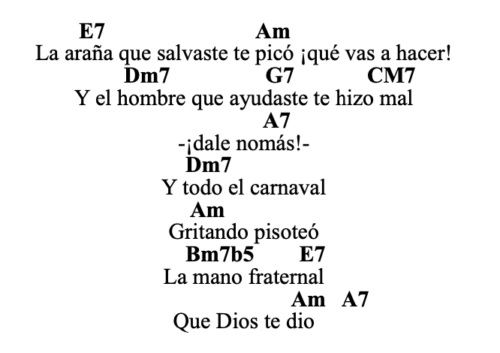 Chorus of Desencuentro with chords
For the chorus, you have to know four new chords with your guitar in addition to the previous ones :

When you master those, you can follow the next tab to play the chorus of Desencuentro chords.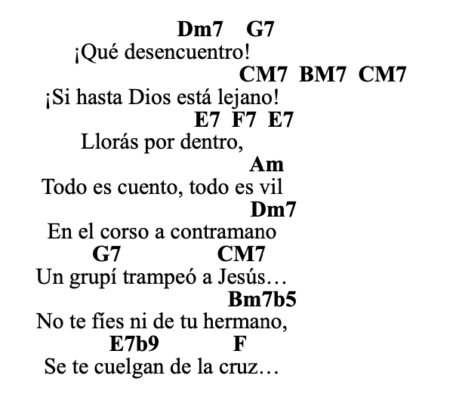 You can also find other tango tabs like the famous Alfonsina y el Mar or the waltz Flor de Lino.
Desencuentro lyrics
The song of tango Desencuentro chords is composed of two parts and the chorus. Each part is composed by three verses.
The structure of the lyrics is simple:
Part 1 – Chorus – Part 2 – Chorus
Part 1
Estás desorientado y no sabés
Qué "trole" hay que tomar para seguir.
Y en este desencuentro con la fe
Querés cruzar el mar y no podés.
La araña que salvaste te picó
¡qué vas a hacer!
Y el hombre que ayudaste te hizo mal
¡dale nomás! Y todo el carnaval
Gritando pisoteó
La mano fraternal
Que Dios te dio.
Chorus
¡Qué desencuentro!
¡Si hasta Dios está lejano!
Llorás por dentro,
Todo es cuento, todo es vil.
En el corso a contramano
Un grupí trampeó a Jesús…
No te fíes ni de tu hermano,
Se te cuelgan de la cruz…
Part 2
Quisiste con ternura, y el amor
Te devoró de atrás hasta el riñón.
Se rieron de tu abrazo y ahí nomás
Te hundieron con rencor todo el arpón
Amargo desencuentro, porque ves
Que es al revés…
Creiste en la honradez
Y en la moral…
¡qué estupidez! Por eso en tu total
Fracaso de vivir,
Ni el tiro del final
Te va a salir.
Chorus
Desencuentro history
Desencuentro chords is a tango composed in 1962 by Aníbal Troilo (music) and Cátulo Castillo (lyrics). It became a hit after the interpretation of the famous Roberto Goyeneche (called El Polaco) a few years later.
This tremendous tango has a very rich melody and very beautiful lyrics. It is about a disoriented man, lost and adrift. He missed his appointment with God, or rather with destiny, and wanders in a dark world that seems meaningless.
Castillo reveals to us the absurdity of life: a man who walks, believing the good, and, as he falls, continues to fall. Until the final shot that will not yet come out, leaving him hesitating on an eternal path, a world without a script, without morals or justice.
On Decibel Score, you can find other tango tab guitar.
Ou score summarizes everything we just covered. You can download it for free to play the song of tango Desencuentro chords by Anibal Troilo sung by Roberto Goyeneche on guitar.