PDF score of Arrancarmelo on guitar
Arrancarmelo with chords
Chords de Arrancarmelo
Here are the chords you need to know to play the song Arrancarmelo chords :

When there are mastered, you can follow the tab and play with your guitar.
Verse 1 of Arrancarmelo on guitar
To play Arrancarmelo, you need to know the previous chords and follow the next tab :
Remember that the chords are written above the lyrics so that you can play them at the right time. Therefore, it's better to play while singing. Chords that are to the right of a phrase (not above a word) are played between the two phrases.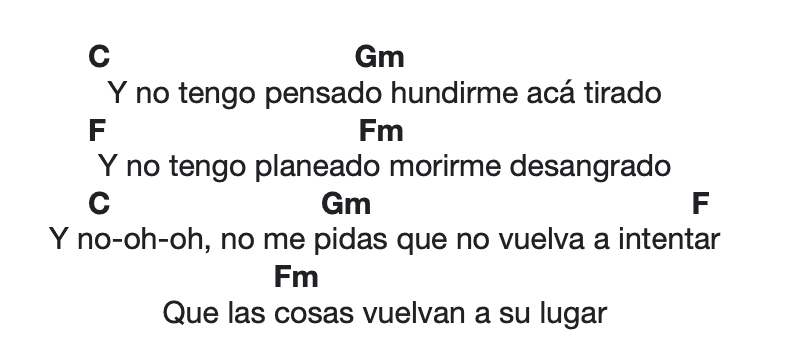 You can learn other songs like the famous french song singed by Aznavour La Boheme.
Arrancarmelo lyrics
The song Arrancarmelo chords by Wos is composed of seven verses.
The structure of the lyrics is simple :
Verse 1 (x2) – Verse 2 – … – Verse 7 – Verse 1 (x2)
Verse 1 x2
Y no tengo pensado hundirme acá tirado
Y no tengo planeado morirme desangrado
Y no-oh-oh, no me pidas que no vuelva a intentar
Que las cosas vuelvan a su lugar
Verse 2
Estamos siendo cuidadosos
Como caminando por un piso resbaloso
Sabiendo que un paso en falso nos lleva al fondo del pozo
Será lo tembloroso de la espuma bailando en mi corazón rabioso
Verse 3
Entender todo es un poco soberbio
Querer explicar todo es un poco por nervios
Por eso hablo hasta por los codos si me pongo ebrio
Y ya no sé si jodo o me lo tomo en serio
Verse 4
Y desconfío, el miedo a dar un salto y encontrar vacío
Ansío que esto que siento no sea mío
¿Por qué de pronto se siente tan frío?
Parece que saber hacerse bien es todo un desafío
Verse 5
Qué rabia me da el amor, voy a arrancármelo
Qué rabia me da el amor, voy a quedármelo
Prefiero lo tortuoso del ritual
Que lo decoroso de estar siempre igual
Verse 6
¿Habrá motivo para estar mal
O debo debo ser yo presintiendo el final?
No es eterno el carnaval si es etéreo lo carnal
Encontraremos algún otro canal para juntar el plexo
Verse 7
De fondo un saxo y queremos sexo
Ahora recuerdo la primera vez que te reíste
Y las ganas que me dieron de que se me ocurra un chiste
¿Cómo van a convencerme de que la magia no existe?
Verse 1 x2
If you start to play guitar, you can learn the barre chords on Decibel Score.
---
Our score summarizes everything we just covered. You can download it for free to play the Arrancarmelo chords by Wos on guitar.