Download our free book All guitar chords pdf to learn how to play guitar more easily.
Download All Guitar Chords in PDF
With all these chords and positions, you will be able to easily play your favorite song and music as well as all our guitar tabs.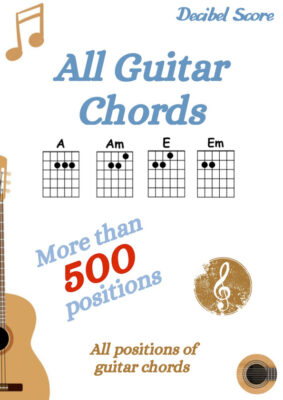 Description of our book about the guitar chords in PDF
The music book All guitar chords pdf that we offer you contains more than 500 chords and will be very useful for you to play your favorite music.
Composed of 49 pages, this pdf offers several pages of chords and positions for each of the 12 keys. You will find on each page 4 chords and 3 different positions to be able to play it on the whole neck.
Thus this guitar book consists of 192 chords and 576 positions.
The logic of the guitar chords in PDF
Let's take advantage of our book All guitar chords pdf to remind you of something important. In guitar, we are lucky enough to be able to transpose – that is to say, change the key – quite easily. This is the famous logic of the guitar bar chords or capo.
So, when you know a position on the guitar, let's take the first position of the E chord, you're supposed to be able to play the F, the F#, the G, the G#, etc. thanks to the slash you make with your index finger. The position remains unchanged.
To understand this, I refer you to our video 64 chords with 2 positions.
A book with all the chords in pdf for guitar beginners
If you are a beginner and you don't know many chords, you don't necessarily need to go through our entire music book (following the previous logic).
You will just have to memorize the positions for this or that type of chord and place them differently on the neck. To do this, you will need to know the notes on the guitar. Otherwise you can download our book All guitar chords pdf.