Hotel California avec tab
Introduction de Hotel California pour guitare
Avant de commencer l'introduction, tu dois connaitre et t'entrainer à positionner quelques accords sur le manche de ta guitare :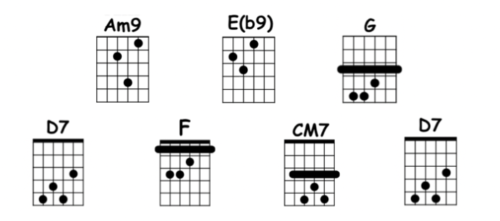 Quand ils sont prêts, tu peux suivre la grille suivante pour jouer l'introduction de Hotel California tab :

Strophe 1 de Hotel California avec accords
Pas besoin de connaître d'autres accords pour continuer à jouer Hotel California du groupe Eagles. Tu dois donc te souvenir des précédents et suivre le plan ci-dessous pour jouer la strophe 1 de la partie 1 à la guitare…
… et, suivant le même plan, la strophe 2 et les deux autres parties.
N'oublies pas que les accords sont écrits au-dessus des paroles pour que tu puisses les jouer au bon moment. C'est donc préférable de jouer en chantant. Les accords qui sont à droite d'une phrase (et non au-dessus d'un mot) se jouent entre les deux phrases.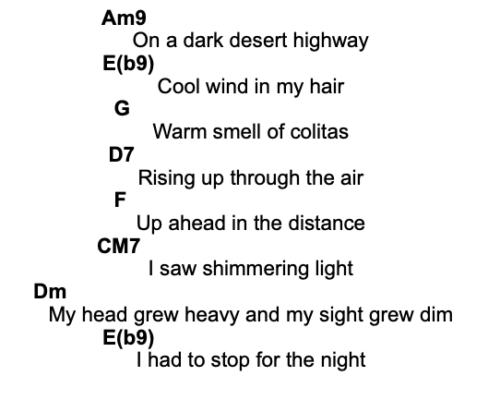 Refrain de Hotel California avec tab
Pour jouer le refrain de Hotel California tab, pas besoin de connaitre de nouveaux accords.
Tu peux continuer en suivant la tablature à la guitare :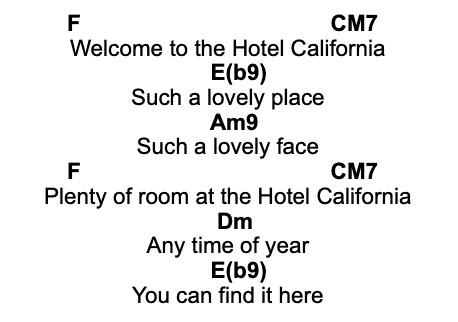 Apprends aussi à jouer Imagine des Beatles à la guitare.
---
Hotel California paroles
La chanson Hotel California tab de Eagles se compose de trois parties (de deux strophes chacune) et d'un refrain.
La structure des paroles est simple :
Strophe 1 – Refrain – Strophe 2 – Refrain – Strophe 3
Parte 1
On a dark desert highway
Cool wind in my hair
Warm smell of colitas
Rising up through the air
Up ahead in the distance
I saw shimmering light
My head grew heavy and my sight grew dim
I had to stop for the night
There she stood in the doorway
I heard the mission bell
And I was thinking to myself
This could be Heaven or this could be Hell
Then she lit up a candle
And she showed me the way
There were voices down the corridor
I thought I heard them say
Refrain
Welcome to the Hotel California
Such a lovely place
Such a lovely face
Plenty of room at the Hotel California
Any time of year
You can find it here
Partie 2
Her mind is Tiffany-twisted
She got the Mercedes Benz
She got a lot of pretty, pretty boys
She calls friends
How they dance in the courtyard
Sweet summer sweat
Some dance to remember
Some dance to forget
So I called up the Captain
Please bring me my wine
He said, 'We haven't had that spirit here »
« Since 1969 »
And still those voices are calling from far away
Wake you up in the middle of the night
Just to hear them say
Refrain
Partie 3
Mirrors on the ceiling
The pink champagne on ice
And she said, 'We are all just prisoners here »
« Of our own device »
And in the master's chambers
They gathered for the feast
They stab it with their steely knives
But they just can't kill the beast
Last thing I remember, I was
Running for the door
I had to find the passage back
To the place I was before
« Relax,  » said the night man
« We are programmed to receive »
« You can check-out any time you like »
« But you can never leave! »
Rends-toi dans le menu pour trouver nos tablatures faciles à la guitare.
---
Hotel California histoire
Hotel California de Eagles est une des chansons de rock les plus connues de l'histoire. Numéro 1 des ventes l'année de sa sortie en 1976, elle passerait sur les ondes états-uniennes toutes les dix minutes en moyenne.
Hotel California tab a été composée par le chanteur du groupe Don Henley dans l'hôtel éponyme California situé dans un village mexicain. C'est justement cet hôtel qui intrigue et fait fantasmer à l'écoute des paroles.
Des références à la marijuana, à l'alcool et aux seringues, la chanson donne une idée de l'état d'esprit libertaire d'une génération bercée par la Beat Generation et les années soixante-huit. Et c'est justement toute l'ambiguïté de la chanson Hotel California qui, sous des air d'hôtel luxueux et tranquille, dévoile un hédonisme américain symbole d'une liberté et d'un assujettissement. Car cette liberté à outrance prend la forme d'une prison dorée de laquelle on ne peut plus s'échapper : « You can check-out any time you like, But you can never leave! »
Retrouve toutes nos tablatures pour jouer du rock à la guitare.
---
Notre partition résume donc tout ce que nous venons de voir et tu peux la télécharger gratuitement pour jouer la chanson Hotel California tab de Eagles à la guitare.