Tutorial con explicaciónes, tablatura fácil para principiantes y acordes para tocar la canción Hotel California acordes de Eagles en guitarra.
---
Partitura PDF de Hotel California en guitarra
---
Hotel California con acordes
Introducción de Hotel California en guitarra
Antes de empezar a tocar la introducción con su guitarra, tendrá que conocer y practicar un rato unos acordes :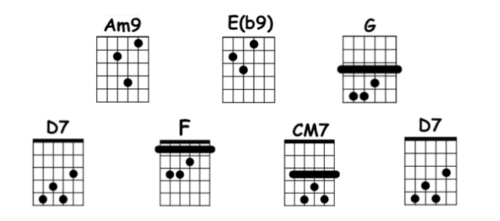 Cuando ya dominas estos, puede seguir la cuadrícula siguiente para tocar la introducción de Hotel California acordes :

Estrofa 1 de Hotel California con acordes
Ya no necesita conocer otros acordes para seguir tocando la canción Hotel California. Así que tiene que recordarse de la anteriores y seguir el plan siguiente con su guitarra para tocar la estrofa 1 de la parte 1…
… y, siguiendo el mismo plan, la estrofa 2 y las otras partes.
No olvide que los acordes estan puestos encima de las letras para que les toque al buen momento. Asi que tiene que tocar cantando. Los acordes que estan a la derecha du una frase (y no encima de una palabra) se tocan entre las dos frases.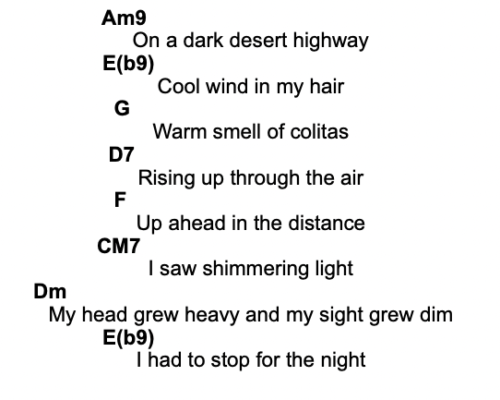 Estribillo de Hotel California de Eagles
Como le he dicho, ya no necesita conocer acordes nuevos para tocar el estribillo de Hotel California acordes de Eagles. Nomas tiene que seguir la partitura :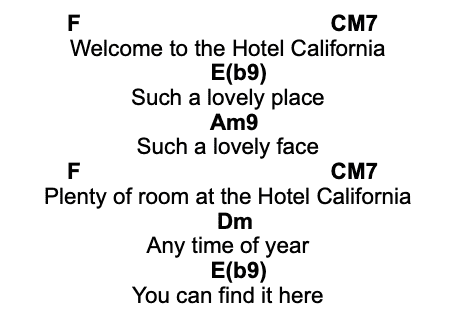 Si se anima a improvisar con esta música, puede encontrar nuestra escala flamenco en guitarra o mirar más específicamente la escala de la menor.
---
Hotel California letra
La canción Hotel California de Eagles se compone de tres partes (con dos estrofas cada una) y de un estribillo.
La estructura de la letra es sencilla :
Parte 1 – Estribillo – Parte 2 – Estribillo – Parte 3
Parte 1
On a dark desert highway
Cool wind in my hair
Warm smell of colitas
Rising up through the air
Up ahead in the distance
I saw shimmering light
My head grew heavy and my sight grew dim
I had to stop for the night
There she stood in the doorway
I heard the mission bell
And I was thinking to myself
This could be Heaven or this could be Hell
Then she lit up a candle
And she showed me the way
There were voices down the corridor
I thought I heard them say
Estribillo
Welcome to the Hotel California
Such a lovely place
Such a lovely face
Plenty of room at the Hotel California
Any time of year
You can find it here
Parte 2
Her mind is Tiffany-twisted
She got the Mercedes Benz
She got a lot of pretty, pretty boys
She calls friends
How they dance in the courtyard
Sweet summer sweat
Some dance to remember
Some dance to forget
So I called up the Captain
Please bring me my wine
He said, 'We haven't had that spirit here»
«Since 1969»
And still those voices are calling from far away
Wake you up in the middle of the night
Just to hear them say
Estribillo
Parte 3
Mirrors on the ceiling
The pink champagne on ice
And she said, 'We are all just prisoners here»
«Of our own device»
And in the master's chambers
They gathered for the feast
They stab it with their steely knives
But they just can't kill the beast
Last thing I remember, I was
Running for the door
I had to find the passage back
To the place I was before
«Relax, » said the night man
«We are programmed to receive»
«You can check-out any time you like»
«But you can never leave!»
Puede mirar otra tablatura de rock como la de John Lennon Imagine.
---
Hotel California historia
Hotel California de Eagles es una de las canciones de rock más famosas de la historia. Fue la canción número uno en ventas en el año de su lanzamiento, 1976, y se dice que se reproduce en las ondas estadounidenses cada diez minutos de media.
Hotel California acordes fue escrito por el cantante de la banda, Don Henley, en el homónimo Hotel California, en un pueblo mexicano. Es este mismo hotel el que intriga y fantasea al escuchar las letras.
Desde las referencias a la marihuana, el alcohol y las agujas, la canción da una idea del estado de ánimo libertario de una generación adormecida por la Generación Beat y los años sesenta. Y esta es precisamente la ambigüedad de la canción Hotel California que, bajo el aire de un hotel lujoso y tranquilo, revela un hedonismo americano símbolo de una libertad y un sometimiento. Para esta libertad excesiva, adopta la forma de una prisión dorada de la que no se puede escapar: «You can check-out any time you like, But you can never leave!»
---
Nuestra partitura resume todo los que acabamos de ver y la puede descargar para tocar la canción Hotel California acordes de Eagles en guitarra.