Tutorial con explicaciónes, tablatura fácil para principiantes y acordes para tocar la canción Redemption Song acordes de Bob Marley en guitarra.
Partitura PDF de Redemption Song para guitarra
Redemption Song con acordes
Parte 1 de la canción Redemption Song con acordes
Para la parte 1 de Redemption Song acordes, necesitará conocer los acordes siguientes con su guitarra :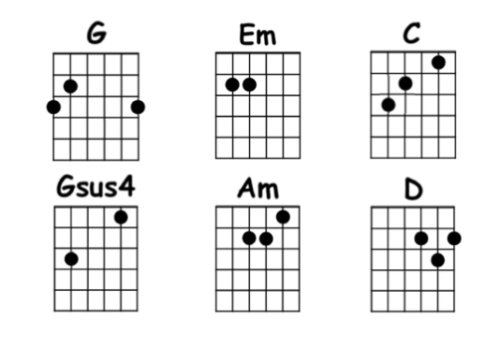 Cuando están bien dominados, puede seguir la tablatura siguiente para tocar las dos estrofas de la primera parte de este reggae de Bob Marley :
No olvide que los acordes estan puestos encima de las letras para que les toque al buen momento. Asi que tiene que tocar cantando. Los acordes que estan a la derecha du una frase (y no encima de una palabra) se tocan entre las dos frases.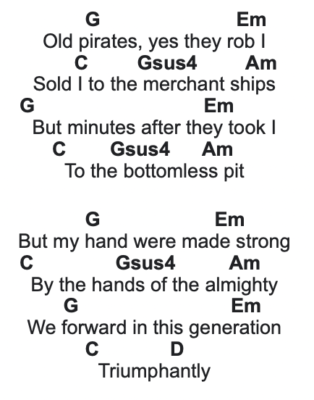 Estribillo del reggae de Bob Marley con acordes
Para el estribillo de esta música de Bob Marley, no necesita conocer nuevos acordes. Solo tiene que recordarte de los anteriores.
Luego puede seguir para tocar el estribillo de Redemption Song con su guitarra siguiendo la tablatura :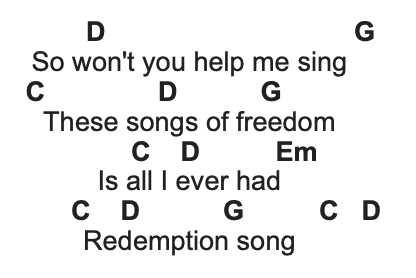 Si busca otro reggae en guitarra, puede encontrar en Decibel Score la tablatura de Three Little Birds.
Redemption Song letra
La canción Redemption Song acordes de Bob Marley se compone de dos partes (con dos estrofas cada una) y de un estribillo.
La estructura de la letra es sencilla :
Parte 1 – Estribillo – Parte 2
Parte 1
Old pirates, yes they rob I
Sold I to the merchant ships
But minutes after they took I
To the bottomless pit
But my hand were made strong
By the hands of the almighty
We forward in this generation
Triumphantly
Estribillo
So won't you help me sing
These songs of freedom
Is all I ever had
Redemption song
Parte 2
Emancipate yourself from the mental slavery
None but ourselves can free our minds
Don't be afraid of atomic energy
'Cause none of them cannot test the time
So how long shall they kill our prophets
While we stand around and look
They say it's just a part of it
We've got to fulfill the book
Si se anima a improvisar en esta canción, puede encontrar nuestro curso sobre la escala blues en guitarra o directamente mirar los esquemas de la escala de sol.
---
Nuestra partitura resume todo los que acabamos de ver y la puede descargar para tocar el reggae Redemption Song acordes de Bob Marley en guitarra.